Our Church
The First Lady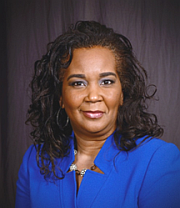 Mrs. Tammy Stallion, a native of Columbus, GA born to the great parents of Mr. Charlie Barker, Sr. and the late Mrs. Emma Simpson. She has three siblings, Charlie Barker, Jr.(deceased), Caroline Barker, and Michael Barker.
She shares with her husband, Rev. David Stallion, Sr., three beautiful children (Sanquita, Tyler and David) and four grandchildren (Jaylan, Jordan, Justin, and Janiah). Their family is built on the foundation of Jesus Christ. She believes that open communication, honesty and trust are the keys to any successful relationship and partnership. She loves spending time with her loving husband, children, grandchildren, traveling, dining, reading, and shopping. Mrs. Stallion is a devoted wife and mother whose life goal is to please God and serve humanity.
Mrs. Stallion is a graduate of Hardaway High School. She attended Clark Atlanta University, majored in Business Administration. She began her career working at the Marriott Corporate Office in Reservations and Accounting in Marietta, GA. Mrs. Stallion was offered a retail management position that led her back to Columbus. She currently holds a leadership position at Aflac Insurance Company Inc. where she has a great opportunity to mentor, coach, encourage process innovation, and receive continuous leadership training.
Mrs. Stallion believes that her ministry or role as a Pastor's wife is to support her husband and the church as the Lord takes us to higher heights. She was a member of Liberty Hill Baptist Church, Cols. GA until her union with Rev. Dr. David L. Stallion, Sr. Mrs. Stallion loves teaching Sunday School to the youth, promoting health & wellness, beautification, administration, and new member orientation. She has a passion to encourage the men and women of God and let them know that James 1:2-3 says, "count it all joy when ye fall into divers temptations; Knowing this, that the trying of your faith worketh patience."
Mrs. Stallion also ministers by helping the children of God understand, you don't have to be near perfect to come to Christ and that we are all a work in progress. She loves working with the youth and encouraging them to put God first, pray, work hard, obey their elders, and surround themselves with positive people.
One of her life's scriptures is Luke 1:37, "For with God nothing shall be impossible."
No Results Found
The page you requested could not be found. Try refining your search, or use the navigation above to locate the post.
4400 Old Cusseta Rd.




Columbus, Georgia 31903
Tel : (706) 687-8134 / 689-1959
Fax : (706) 687-8139